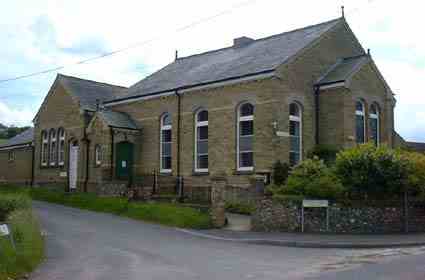 At the beginning of this century, the wooden structure that used to stand next to the Chequers was used as a Methodist Chapel. As early as 1884, minutes of the chapel treasurer's book recorded a suggestion that the land at the corner of Hopes Hill could be purchased to build a new chapel. This was finally built in 1903 with the help of money raised by Sister Mary Broad - who was at that time the owner and governess of Southdowns.
In the late 1940's a fund-raising committee was formed to purchase or build a Village Hall. At the time, various locations were used for functions including both the original, wooden Methodist Chapel, the 'new' Chapel on Hopes Hill and the school.
In 1952/3 a decision was made to try to purchase the ex Methodist Chapel on Hopes Hill. When the church refused to sell, the committee decided to build a hall, at a cost of approximately £2,000, on a piece of ground opposite the school donated by Mrs. Jeffreys of Doddington Place. However, at the eleventh hour the Methodist Church had a change of heart. In October 1954, the Chapel was purchased for £750.
A trustee committee was formed and a management committee elected from hall users. Various modifications were carried out over the years; heating was fitted in the form of gas fires (since replaced).
In 1996 the village hall became a registered charity and the original Trustees committee is now being disbanded (only two of the original trustees were still part of the committee). The hall will now be run by Managing Trustees.
Do you have any information on this building ? Let us know on the buildings blogg and have it added to the website.