Webnote : UPDATE COULTER LINK !
Doddington workhouse, once situated on Dully Hill (or Stoney Hill as it was sometimes called), was used as a centre for paying poor relief as well as housing the destitute of the community.
West End and Dully Hill, early 1900's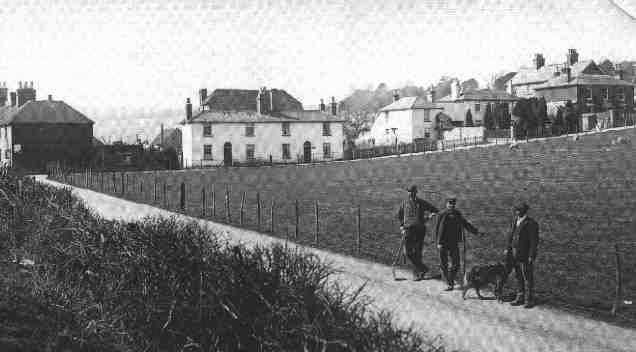 COURTESY OF PERIWINKLE PRESS, NEWNHAM
On 4th May 1835, a serious public disturbance took place outside the workhouse. Cheap imports of wheat from Europe and the 1834 Poor Laws had led to widespread unrest in many rural areas, including Swale.
The protest started at nine o'clock on the Monday morning, when a crowd of 40 demonstrators gathered to protest about the issuing of bread tickets - instead of cash payments - as part of their 'poor relief'.
By half-past-one in the afternoon the crowd had swelled to 200 demonstrators who laid virtual siege to the workhouse, trapping inside the magistrates and officials who were present to oversee the new 'poor relief' payments.
The captives eventually decided that they would have to come out of the workhouse and face the crowd; the aptly-named Reverend Poore managed to pacify the rioters. John Rogers, the Relieving Officer, promised to pass the protesters' grievances to the Board of Guardians.
At a later date fifty-three demonstrators were convicted for their part in the Swale disturbances. Of these, five were agricultural labourers from Doddington, aged between 40 and 60 years. John Barrett, John Woodley, Henry Butler and James Blanche were sentenced to hard labour for 12, 18, 3 and 20 months respectively. Abraham Neaves was bound over to keep the peace.
The workhouse was sold by the Faversham Poor Board, in April 1836, for œ285. The buyer, Henry Robert Coulter, was church warden of Doddington and farmer at little Sharsted. Its history following the sale has yet to be discovered but the building was finally demolished in 1987, having stood derelict for some years.
Do you have any information on this building ? Let us know on the buildings blogg and have it added to the website.