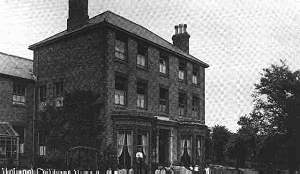 Previously known as Doddington College, Southdowns was a boarding school for 'the sons of gentlemen'.
Local children used to say that the initials, 'DC', on the flagstaff stood for 'Dirty Children'!
The master of the college, Mr. Longhurst, was also the organist at the Church and formed both a Boys Choir (which performed at music festivals in Canterbury) and a village Male Voice Choir. However, when Mr. Longhurst left, the college became less popular and finally closed.
A long time after the closure of the school, the property was bought by Sister Mary Broad, a Wesleyan Deaconess; she opened a convalescent home for girls, known as Highgate Wood Lodge. Southdowns is now a respite care unit for children with disabilities.
Do you have any information on this building ? Let us know on the buildings blogg and have it added to the website.