The Old Vicarage Was until recently a residential home but has now been converted back to a private residence. Sections of it date back to 1656, when it was known as Church Hill House; the most recent additions are Victorian.
The Old Vicarage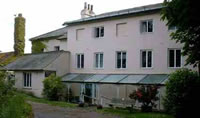 Doddington Parochial Library
This was founded under the will of a former vicar of the village, the Reverend Daniel Somerscales, who died in 1737. It was originally housed at Doddington Vicarage but was relocated to the Fleur de Lis Heritage Centre in Faversham in 1982. It constitutes one of the few ancient libraries of its kind to have survived.
Consisting of around 400 volumes, the works are mainly theological but include 17/18th Century additions of medical, natural history and geographical texts. The original catalogue of the library (dated 1743) is still in existence; the earliest works were printed in 1442/1443 - only 30 years after Caxton's introduction of the art of printing to England. One of the original wooden travelling cases (now converted to a cupboard) still houses some of the books.
The library is open to any parishioner of Doddington, by prior appointment with the Heritage Centre, and is certainly worth a visit.
---