---
No Driving Cars On Field
MUD MUD GLORIOUS MUD . Some of you may remember the song by Swan and Flanders from years ago. Well the MUD is back and the field is getting VERY soft . Don't drive over to the Patch until further notice as you will get stuck . Please park on the track in the field or in the car parking area by track. Your help will be appreciated.
Phil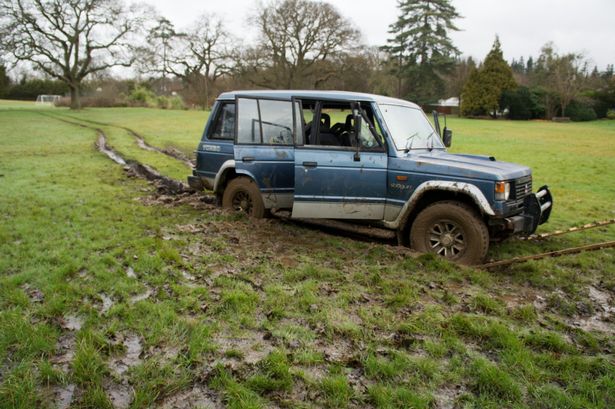 Harty Field (as at 31st Jan)
I optimisticly went to the Harty site to try and trim the new Snipe but to no avail as the dirt track was far to wet and there was a lot of standing water on the ground and under the grass. However the road access that was "resurfaced" in the summer is good and there are no slurry ponds to drive through. The crops around the site look like the green shoots of wheat so we may have a reasonable site in the better weather. ............. Mike Smith
---
Click Here
to See New Layout for Pits, Runway and No Fly areas.
---
Indoor Fliers Please note :
After unexpected hall hire price increase by the venue, the cost to fly has had to correspondingly increase (see below) apologies but obviously beyond our control.

---
FPV Flyers Please Read
Hello everyone, after being down the field it has come to our attention that there is a lot of fpv going on. Please can you follow these few simple steps to stop any future problems or accidents.
1. If you intend to fly fpv please talk to any other pilots that are also flying fpv to find out what channels they are flying on.
2. Do not power up a vtx unless you know you will not clash on channels.
3. If you intend to fly an fpv model but you are flying line of sight please turn off your vtx so it is not transmitting. You may need to add a switch or plug to your vtx power lead so you can power down your vtx if not in use.
4. Make sure you know how to change the channel on your vtx as you may have to change it down the field. If you need help with this please ask someone to show you as you should know how to use the equipment you are flying.
5. Can any members flying fpv please make sure you all fly from the same area so you can communicate with other fpv pilots no matter what flying machine you are using.
If any members have any problems following these steps do not fly and bring your issues to a committee member.
Many thanks
Ian.
(Comp sec)
---
Harty Ferry Site
New directions are now available (courtesy of Mike Smith) Click Here
(Its below details for Stickfast Lane field)
---
For pictures of flying and club activities see the club facebook page. Got any pics? Post them on Facebook! We also now have a twitter account (see link below)