Down Court lies half a mile north west of the village and was a manor in King John's reign (1199-1216), held by Simon de Dodington.It was mentioned in the 13th Century as land called 'le Downe'.
During Henry VI's reign (1422-1461 and 1470-1471) both Down Court and Sharsted Court were owned by the Bourne family. Down Court was later owned by the Adye family who had resided at Gritt (Lady Margaret Manor) since the 14th Century.
The farm has since had several owners including the Jarvis Family, the estate of Leigh-Pemberton, the Sage family and now the Attwood family.
The present house at Down Court farm dates from about 1800. Information taken from census returns shows that in 1851 Alfred Barnes, aged 25, farmed 134 acres, employing 7 men resident on the property. In 1871 it was run by Thomas Bensted, with 1600 acres, who employed 66 men and 11 boys. This may have included farmland out of the area. In 1881, it was still under Thomas Bensted (aged 57), with 300 acres, 12 men, 3 boys and 3 women.
In the early nineteen hundreds, the Cricket Club met at Down Court on Saturdays.
Info Held by English Heritage (contributed by Peter Stuart)
DODDINGTON Down Court
Down Court Farmhouse
Grade II listed Farmhouse. Circa 1800.
Red brick and plain tiled roof. Two storeys on plinth with brick dentil cornice to hipped roof. Three glazing bar sashes on first floor, 1 glazing bar sash and 1 metal casement on ground floor, with central panelled door with rectangular fanlight and flat hood on brackets at top of flight of 5 steps.
Picture of John Jarvis (who owned the Windmill) in front of Down Court which he also owned. Pic supplied by Myrna Boswell of Australia:
"Photos were bought to australia by my grandmother in 1924, photos of her home and father. I always assumed the farm (hops and cherrys) was named "Down Court" From information I have read on your site, I am left wondering. In the 1881 census it shows the family residing at the post office grogery shop (which I had heard mention of) six years before my my grandmother Alice Jarvis, was born. Maybe they moved to the farm after the census?"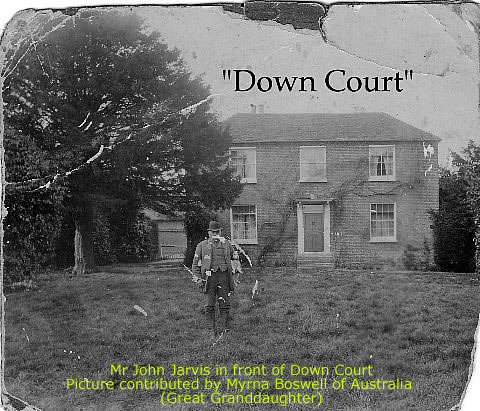 "